Allan Johnson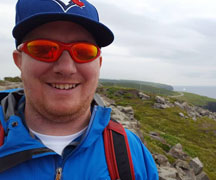 VP, Finance
vpfinance@milezeroultimate.com
When did you start playing ultimate? Summer League 2012
Team Affiliation(s): Scoober Doo, Sex Panther,
Favourite MZU Memory: Seven years on the MZU Board of Directors, six years on the MZU Executive, five years as MZU President, three hat leagues championships, two Most Spirited Team Awards and one Joe Coady Award (2017).
Why did you join the board? To give back to the amazing Ultimate community in St. John's, NL.