Andy Porter
Member-at-Large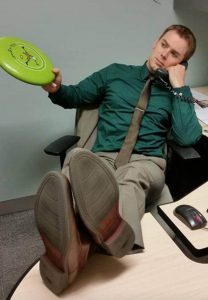 Playing ultimate since: 2006
Team Affiliation(s):  Frisky Dingo
Fave MZU Memory: Captaining some amazing teams like JLU, Bad Wolf, and Frisky Dingo with a bunch of awesome people.
Why did you join the board?: I want to help build the league back to a more connected and communal place.
Need to know: I once convinced my entire team to try and pull off the Homer Simpson play (which involved all but one of them dropping to the ground and making weird noises while the other person just ran long for a huck)…it failed horribly.