Kris Penney
Member-at-Large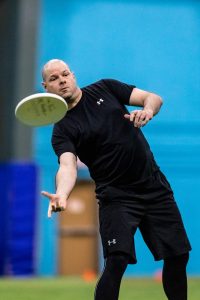 Playing ultimate since: 2014
Team Affiliation(s):  Team Slow Clap
Fave MZU Memory: Fall Hat League 2021. Thanks to playing with a group of unbelievably talented teammates, I somehow managed to get male-matching MVP for the season. I doubt I'll ever duplicate that, so it will stand out as one of my fondest memories of playing ultimate.
Why did you join the board?: After playing in MZU for 8 years, I wanted to get involved in more than just the on-field aspect of the sport. Playing in this league has meant a lot to me personally since I got involved and I'm hoping to be able to help, in some way, shape the direction of where it's headed.
"Pineapple belongs on pizza, and hot dogs are sandwiches."